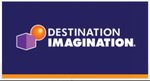 Destination Imagination
Informational meeting Tuesday, September 5 6pm at the WCJSHS
If your child is creative, is crazy about puzzles, loves to paint and draw, can build anything out of cardboard boxes, writes amazing stories, thinks up whimsical new worlds, has a flair for drama and acting, is totally into science, or has rewired your toaster into a working time machine (or wants to), then you may have a Destination Imagination child!
Join us in the WCJSHS Library on September 5 at PM for an informative parent meeting about this exciting new program available at West Carroll.
Call 731-669-3851 or visit www.destinationimagination.org for more information.